For many early birds and night owls alike, coffee is an integral part of the day. Here at deMx architecture, the phrase "But first, coffee" isn't just a cute saying on T-shirts or coffee mugs; it's a morning motto. So to kickoff this happy #FridayFavorites day, here is a list of five of our favorite home coffee stations we found on Pinterest. These at-home coffee bars were selected based on their organization, accessibility, accessories and accents, and overall style/design.
If the sign isn't enough to grab your attention, the bold colors in contrast with the white cart and walls certainly will. This nailed the top spot because of the simplicity of the station, while also carrying all the necessities and then some. The touches of nature with the baby cactus and succulent with the dark orange hues gives off a semi-southwestern feel, but the copper arrow and ceramic cups on a wooden tray connect it more to a farmhouse theme - like the sign says, normal is boring. I love the layers of each shelf - the espresso machine and milk frother as well as a traditional drip coffee maker on the top, cups and sugar (the second things you go for when making a morning bevie) and lesser used or bulk items on the bottom, with varieties of coffee, a French press for when you have a minute to relax. Put some simple and flavored syrups in oil bottles and you're set for a clean and organized bar. Ah, lovely.
As you can see in the picture, this coffee station is right by the dining room, a snug little fit but a somewhat perfect spot. I love that this station isn't limited to the cart itself but spreads to the wall space above with a dedicated shelf for hanging cups - a great space saver - and jars of what appears to be ground coffee and raw sugar. The cart features a scale to ensure you have the right amount of coffee for your cup, and overall it's just a really clean setup that stands out in style, but blends in with the theme of this living area.
This nightstand is so simple, it's perfect for the on-the-go coffee drinker. The simply labeled, white ceramic-ware ties the variety of colors in the pods and nightstand together quite nicely. f you don't have much to your caffeine game, use an old re-purposed nightstand to set up your supplies. The drawers can be used for pods, packets, or small bags, and whatever else you want in your coffee. You can even get a three-tiered stand for your syrups, cups, and stir-sticks for the top of the stand, just in case your coffee or espresso machine is the main item on top and you're lacking space.
Love the modern simplicity of this tiny corner. The station structure is from IKEA, but many of these cube storage palettes can be found at Target for those who don't have an IKEA around (tragic, I know). This one has a rustic feel with the chopped logs and wooden crate on top, and I think greenery of some sort would have fit nicely in this space as well. It's a tiny corner for the space, and it seems great for someone who needs a hip Americano pronto and nothing else to go with it (except a pair of Rayban Wayfarers and a vintage camera).
Because if you have need for morning and evening bars, why not use the same tucked-away space? Morning happy hour and evening happy hour involve two different beverages, but they still bring out the best in people, depending on the time of day (...mostly). Having it inside a small room like a closet under the stairs or even a re-imagined laundry room gives it more of an intimate feel that is only reserved for this semi-secret space. Need I say more?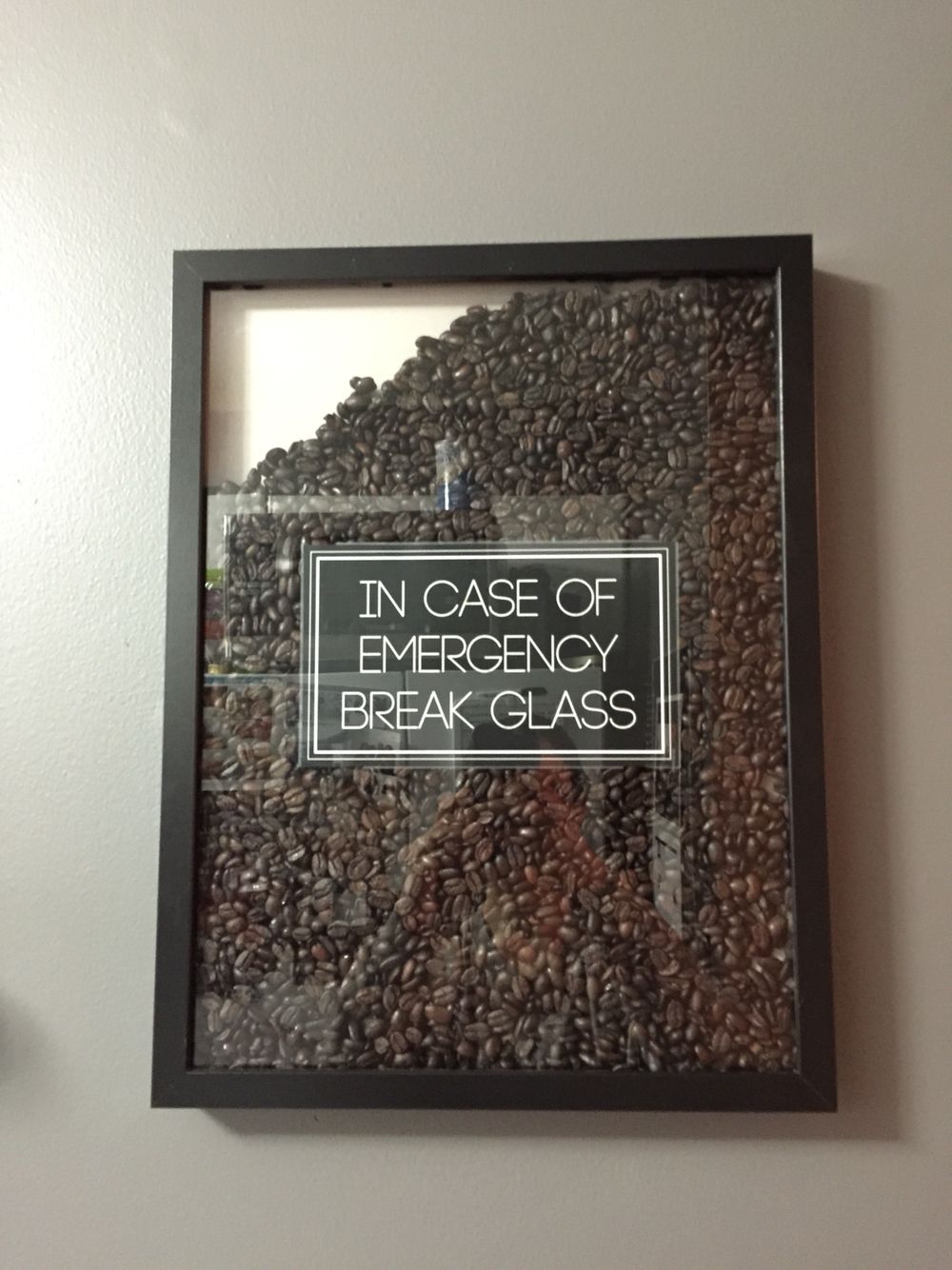 Here's a couple fun add-ons that would be a simple and cute way to spice up your space. The coffee-bean-filled frame is an essential symbol for anyone who relies on coffee to get them through their day. If you have expired coffee beans (after opening a bag, beans really only stay at their best for one week; ground coffee, 24 hours… Surprise!), fill up a frame from Hobby Lobby and glue the statement to the inside of the glass. Voila.
This is just a close-up of glass jars that can sit in your pantry, on your kitchen counter, or with the coffee station itself. Pods, teas, sugars packets, stir sticks… Whatever you need for your best cup (or three) of coffee can be stored in airtight glass jars like these (and that way you can see if you're getting low on supplies before it's too late).